Well if you don't know, now you know...
Peter Reyes has been DJ'ing since the dawn of Disco, is in the Disco Hall of Fame at the library of Congress, was the resident DJ at The Monastary (the west coast's answer to The Garage that also had resident DJ Walter Gibbons), has been tearing up clubs for as long as most of us have been alive, has the full respect of his peers and industry insiders, but for some reason hasn't become a house hold name with the generation of youngsters now getting into the sound. I have a feeling this is going to change soon. I am happy to announce that Peter is going to be the next guest out our Puddin' party on June 4th, and I asked him a few quick questions to help give some of those not in the know some perspective on his long career in the industry.
When did you start DJ'ing, and how did you get mentored into the vinyl arts?
I started DJ'ing in 1974 when I was introduced to Tony Gonzales, who at the time was running some local venues such as the "The Mongoose", "The Penthouse", and "The Odyssey". Tony was a venue promoter & DJ in the Miami and Greater NY/NJ area. He had given me the opportunity to open for some of his guest DJs at his venues, including the likes of Francis Grasso (The Sanctuary), Richie, Kaczor (Turntable), and Frank Houlihan (The Ice Palace).
What are some of the clubs and countries you've DJ'd in over the years?
Some of the Clubs: The Clinic (U.K), The 25 Club (Germany), Eastside (Germany), Discovery(NJ), The Underground (NYC), Eagle's Nest(Seattle), Monastery(Seattle), Lotus(NYC), Eugene's(NYC), Sound Factory Bar(NYC), Canal Room(NYC), Avalon(NYC), SOBs(NYC), Copacabana(NYC), Centro Fly(NYC). Countries: Sweden, Switzerland, Germany, Italy, France, Spain, Australia, New Zealand, and the U.K.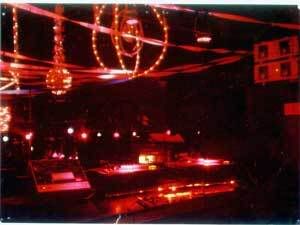 What was your favorite club to DJ at of all time, and why?
The Monastery in Seattle, WA. The Monastery was an Old Church, very similiar to the Limelight of NYC in the 80s. It was owned by George Freeman, from the Legendary Galaxy 21 (NYC). The sound system was put in by Richard Long. It was huge club that brought in 2000+ people Fridays and Saturdays. There I played 15 hr sets and would close out the nights with a sleeze format which became a signature closing. The club became a haven for up and coming performers like Madonna, Culture Club, Pointer Sisters, and other greats.
So how many records do you think you have at this point, and what are some of the styles you specialize in?
I probably have about 50,000 records (12"s & LPs) to include a few thousand 45s. Speciality: Mostly Rare Grooves (Disco, Rock, Jazz, Latin, Italo, and Soul Funk).
Tell us about "search and find", and some of the interesting people that you have come into contact with through that business?
In the early days, 12"s didn't exist, I just collected 45s. But on a day trip to NYC, Delancy street, I happen to wander into a basement record store which had a huge inventory of 45s and a good friend of mine and I spent from morning to dusk "diggin". Funny thing though, half the store's ceiling was caved in with water damage. And when the owner wasn't looking, we crawled behind the collapsed space to find real treasures. "Search and Find" is a multitude of stories from all over with all kinds of characters and situations that have served to build my music catalogue...besides being in several record pools through the years. And from DJing and selling records, I've created some great friendships that include the likes of Nick the Record, Mark Seven, Wingo, Greg Wilson, Dimitri from Paris, Kenny Dope, Paul "Trouble" Anderson, and so forth.
What do you have in store for Puddin'???
I'm working on 6 new edits that I will be dropping, plus a dozen or so edits from the early days to present. Enough said, be patient.
LOL thanks Peter!
Check out Peter's site: http://www.myspace.com/havanasoul1